As you may already know, Britannic Appliance Services provides a number of different white goods for your home if you need them. We also offer technical support over the phone along with arranging home visits from engineers for repairs.
In this article, we are going to explain the difference between white goods, brown goods and grey goods. As we only deal with white goods, we thought it might be a good idea to differentiate between these.
So, let us get started!
What Would You Consider to Be White Goods?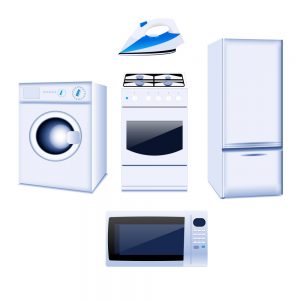 White goods are generally, domestic appliances like, heaters, washing machines, refrigerators and dryers. They are typically white in colour but this can change of course.
White goods can be small and large appliances that you would normally already have in your home, even if you are renting accommodation or would be looking to buy if you are a first time home owner.
Brown goods are your other electronic appliances such as televisions, radios, computers, DVD players, lights and much more.
Usually, you bring brown goods with you from the home that you previously had but if you are a first-time buyer of a home, then getting some is quite simple. Mostly because they are sold everywhere.
Unfortunately, we do not provide brown goods here at Britannic Appliance Services, however, as previously mentioned, you can buy brown goods pretty much anywhere – so you shouldn't have any issues trying to find them locally.
If you are looking for top quality brown goods, then the internet can be your best friend for this.
I Have Never Heard of Grey Goods?
That might be because you hardly buy products overseas. Or because, you generally buy products that have a company logo on them and are registered as products you can buy in the United Kingdom.
Grey goods are products that are bought in from a foreign country and sold at a very low price than when the manufacturer originally prices them and surprisingly, don't have a brand. This entails them to have zero support and a never heard of warranty.
Therefore, they can be considered a very bad choice. But for some people, if the price is right then this doesn't matter to them at all. Just be very careful what you are purchasing.
Contact Us for More Information
If you want anything clarified by us here at Britannic Appliance Services, then all you have to do is call or fill out our contact form.